Endless Gifts
[I]n everything give thanks; for this is God's will for you in Christ Jesus. (1 Thessalonians 5:18)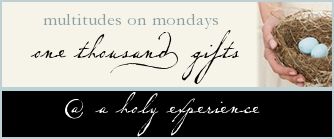 (Great idea! Free app:)

My "Endless Gifts" list:
2638. Friends "how are you" phone call this morning.
2639. History and Bible lessons coinciding.
2640. Colored pencils.
2641. Pencil sharpener.
2642. New soup experiment: curry soup with turkey and yams.
2643. Week-long Thanksgiving break at Mom and Dad's.
2644. Learning to sew pillowcases.
2645. The white-on-white fabric pattern that reminds me of John 15.
2646. Ground flax seed in oatmeal.
2647. The calming effect of bananas.
2648. Running the Hollandale trail without worry over rattlesnakes (because it's too cold for them this time of year).
2649. Looking forward to Christmas visitors.
2650. Barksdales visiting soon.
2651. Meeting newborn Maria and holding her a long time.
2652. The apple cake recipe from The Denver Post Food Section long ago.
2653. Sons who, on their own initiative, keep up with current events.
2654. More than one high school option.
2655. Interviews with guidance counselors and registrars.
2656. Next summer's EFCA youth conference.
2657. Pastor Andy and family.
2658. Time to write.
2659. Charles's encouragement to write.
2660. Metronome keeping time.
2661. Psalm 104:19.
2662. My purse was where I left it.
2663. Derek and Titus's surprise K'Nex Christmas ornament.
2664. Christmas decorating takes less than two hours.
2665. Making time to write.
2666. Books on marriage.
2667. Books on writing.
2668. Scones recipe.
2669. Piano lessons.
2670. An hour of solitude during piano lessons.
2671. Piano teacher's sons and daughters.
[start 1/5/2012 here]
2672. Art school not far from here and not too expensive.
2673. Charles's guidance and wisdom.
2674. Sweet potato soup experiment.
2675. Bible study with Titus yesterday (on Numbers 12).
2676. Mom's quilts.
2677. Making napkins from scrap fabric.
2678. Christmas guests.
2679. Unusually warm January weather.
2680. Not having to worry about rattlesnakes this time of year.
2681. Free lift tickets for 5th graders.
2682. Rockrimmon Library (so close!).
2683. Finding out about Walter Dean Myers.
2684. Friend's unexpected visit.
2685. History timelines.
2686. Invitation to the Bell game night on New Year's Eve.
2687. Playing Carcassonne with Byron and Tirzah.
2688. Dinner and fellowship at McKittricks'.
2689. My blender still works.
2690. The car started again.
2691. Yesterday's low blood sugar problems were just yesterday's.
2692. Wondering what will happen for Fall Bible studies.
2693. Philippians 4:8.
2694. The updated Augustus Toplady hymn.
2695. Sovereign Grace Music songwriters.
2696. Being on drums this Sunday.
2697. Hearing Nancy play bass.
2698. Carol's Elton-John-like glasses.
2699. Stevie Wonder songs.
2700. Ability to run every day.
2701. Charles's smile, especially the crow's-feet.
2702. Washing the car.
2703. Old sock rags and old cloth diaper rags.
2704. Barksdales' visit.
2705. Newborns.
2706. Robert Lang's origami.
2707. Having lived in Israel.
2708. Meeting Elsa and Arco.
2709. George and Leela.
2710. The privilege of parenting.
2711. National Ambassador for Young People's Literature.
2712. Eagle Lake Camps.
2713. My Canon PowerShot.
2714. Free prints at Walgreens.
2715. Time with family.
2716. Titus didn't let me get rid of those three games.
2717. Huge closet clean-out.
2718. Found a good home for the Jack LaLanne Power Juicer.
2719. The Goodwill drop-off by the library.
2720. I am in good health.
2721. Merck Manual of Medical Information.
2722. God's peace that surpasses understanding.
2723. Memorizing Genesis 28 and how it dovetails with other Scriptures.
2724. God helps me remain calm. Otherwise, I'd go ballistic.
2725. The Word of God which helps me with self-control and anger.
2726. The greatest: love.
2727. Help, support, and prayer from friends who've been there before in the parenting adventure.
2728. Charles's joy, sense of humor, and level head.
2729. Day-old muffins half-off at Marigold.
2730. Free coffee.
2731. Byron's birthday pictures.
2732. Byron with arms spread wide and head flung back, like Snoopy does when he's dancing.
2733. Reading on the bed.
2734. My light blue Pilot pen.
2735. Kathleen who taught me artist's bookbinding.
2736. The low-blood-sugar shakes finally stopped.
2737. Ground bison from Black Forest Bison.
2738. God's grace, without which all is lost.
2739. I'm about to explode, but I haven't yet.
2740. Winter weather which means I run on the trails without worry of rattlesnakes.
2741. A fragile young soul who needs lots of love heaped on, or else he will misinterpret it as "being mad at me." Maybe I'm like this, too?
2742. God uses others to make me more loving, gentle, patient, kind…
2743. Tweetspeak Poetry.
2744. Katherine Paterson's A Sense of Wonder and The Spying Heart.
2745. Cranberry-orange scones.
2746. Beer bread recipes.
2747. They ate the corn "bread" (corn sticks?), even though I forgot to put in the baking powder.
2748. Scenario that ended in love and tenderness instead of explosions.
2749. Dorothy's Bible studies.
2750. They like champorado for breakfast.
2751. Son crushing candy canes for the peppermint chocolate cake.
2752. Being asked to make three dozen cookies for the reception following the funeral.
2753. Paul J. Willis poetry.
2754. Every Day Poems.
2755. Charles teaching Amos in Sunday School.
2756. Friends who show concern.
2757. Husband who speaks truth in love.
2758. The trails around our neighborhood.
2759. Two parks within a mile from here.
2760. The PPLD holds system.
2761. Philippians 4:8.
2762. Rest.
2763. The Psalms.
2764. Cranberries and ground golden flax in oatmeal.
2765. Fish I've never heard of (swai) on sale.
2766. Roasted Korean-style seaweed.
2767. SmartWool socks, still good after many years.
2768. Working bike.
2769. Got to church safely, though I forgot to put on the bike helmet.
2770. Singing alto.
2771. (At first I accidentally typed "Singing alot," but that's true, too!)
2772. Mom's dried apples.
2773. Getting rid of so much during my big closet clean-out.
2774. Window seats.
2775. Warm sun through windows.
2776. Renee wanted the Jack LaLanne Power Juicer, so I got rid of it!
2777. The Goodwill drop-off by the library.
2778. Son folding napkins.
2779. The January T.S. Poetry theme: resolutions.
2780. Encouraging words.
2781. Reminder to be the giver (not just the recipient) of encouragement.
2782. Unexpected walk with Susan.
2783. Quiet times.
2784. Friends passionate about fair trade.
2785. Being a parent.
2786. The headache ended after twelve hours.
2787. Ibuprofen (eventually).
2788. New worship pastor and family.
2789. Making meals for people.
2790. The day way back when, when I finally figured out that when I make meals for people, I should just make the same thing for us (duh).
2791. The white-chocolate cheesecake recipe.
2792. Sour milk.
2793. Huckleberries.
2794. Titus starts art school today.
2795. We know other families in Land Sharks.
2796. Kelly and Jim and family.
2797. Learning from mistakes.
2798. Having a cool, dark basement (for headaches).
2799. Grading their grammar and writing work. (Amazing!)
2800. Homemade teriyaki sauce.
2801. Ahava lotion.
2802. Eating fish more often.
2803. Rice cooker still working well after 18 years.
2804. The big turnaround in my thinking and perspective.
2805. God telling me what to look for.
2806. My husband cherishes me.
2807. Writing letters.
2808. Laura's encouraging email.
2809. Witty friends.
2810. Derek took charge when I escaped to the basement because of the headache.
2811. Looking around at PlanningCenter.
2812. Susan making the Bible study schedule well in advance.
2813. Community group starts Sunday.
2814. Dinner with David and Jill Saturday.
2815. People who dialogue with me.
2816. Generous people who encourage me to be generous.
2817. Good News for India.
2818. Charles's love for our children.
2819. He's a fun dad.
2820. Pictures of Jackie.
2821. Memories of my sister.
2822. Waiting to meet Cam.
2823. Opportunities to talk with Katie.
2824. She had two children after the stillborn son.
2825. I fit into the green jeans again.
2826. Spring mix salad on sale.
2827. Avocado ice cream.
2828. Clothes without holes.
2829. Not wanting to let go of my favorite shirt with a hole in the elbow.
2830. Scarf made by Drew.
2831. Running socks on sale, after Judy gave me money for running socks.
2832. Flannel sheets.
2833. God's sustenance in pain.
2834. Dependence on God.
2835. Marking up Deuteronomy 6.
2836. Derek is ahead of me in memorizing Matthew 5.
2837. David's story of God saving his life (and more).
2838. He told his story to us and our boys.
2839. Loud laughter.
2840. Wheelchairs.
2841. Moving muscles.
2842. Running in the sun again today.
2843. Our boys are alive.
2844. Sour milk used for waffles.
2845. The toaster oven, for leftover pancakes.
2846. Maple syrup.
2847. A good nap.
2848. Friends who brought some of their daughter's birthday cake.
2849. The Gospel of Mark.
2850. Learning to become a woman who loves.
2851. Unexpectedly, I'm drumming tomorrow, though I wasn't scheduled!
2852. The cool PlanningCenter thing.
2853. Ability to read a score.
2854. Suspended chords.
2855. Hand-me-down computers.
2856. Office supply stores.
2857. Hot showers.
2858. KTLF's Saturday morning programming (for Saturday morning chores).
2859. Clean bathrooms.
2860. Wool socks.
2861. Two new black shirts that fit well.
2862. The shirts are good for running as well as dressy days.
2863. Coffee dates with Mary.
2864. The Panera Bread on North Nevada.
2865. Chocolate croissants.
2866. Day-old, half-off bread.
2867. Titus's voice.
2868. Derek's laugh. Reminds me of mine.
2869. Byron curled up in the giant bean bag.
2870. Mom, who made the bean bag.
2871. Memories of past California trips.
2872. Looking forward to this year's California trip.
2873. Being asked to write.
2874. The rejection letter with a handwritten note.
2875. There's always next year.
2876. Twitter poetry james with @tspoetry.
2877. The new Image-ine poetry prompts.
2878. Photography prompts.
2879. Cinnamon.
2880. Apple butter.
2881. Rediscovering God's grace.
2882. How drumming teaches me about the Body of Christ.
2883. Colorful pens, especially my purple one.
2884. Community groups.
2885. Talking with Cynthia for the first time.
2886. Charles teaching pre-breakfast school.
2887. The growing list of things my sons can do that I can't.
2888. Glynn's article on marriage.
2889. Lifelong marriage commitment.
2890. Loving God more than one another.
2891. Drinks for a dollar after 2:00.
2892. Titus's art school.
2893. Understanding, patient teachers.
2894. There's a Safeway near art school.
2895. Running errands with Byron.
2896. Wednesdays at 5:00.
2897. Alarm clock.
2898. The Learnables language lessons.
2899. Living in Israel for a year.
2900. New black quick-dry shirts.
2901. The trails around the neighborhood.
2902. Rain coming.
y2903. Snow, too.
2904. Flannel sheets.
2905. The wonderful hand-me-down boots.
2906. Another Montrose trip, too short this time.
2907. Ouray Hot Springs.
2908. Eric and Lea Ann's incredible generosity. That they thought of us…
2909. The Lennox House.
2910. Meeting Bob and Jami at the B&B, and hearing of their son.
2911. Time with the Hartfields.
2912. Leah's doll.
2913. Hosea Sunday School starting next week.
2914. Walking to Panino's.
2915. The mountain biker who encouraged me during my uphill run. A Godsend.
2916. Watermark music.
2917. Charles and Titus skiing for the first time at Loveland.
2918. Good weather for their drive and skiing.
2919. Leftovers.
2920. Finding a pound of ground bison I didn't know was in the fridge.
2921. The Camp Robber Restaurant.
2922. Saturday walks with Charles.
2923. Kathryn.
2924. Being in music ministry.
2925. Waking to a new song in my head.
2926. My long brown skirt.
2927. Wook socks.
2928. Socks on sale at REI.
2929. My family's safety.
2930. Different Bible translations.
2931. Audiobooks in Spanish at the library.
2932. God teaching me about edification in 1 Corinthians.
2933. Nice, big mugs.
2934. Gail at Crossfire, and her words about my sons.
2935. God's reminder not to take my sons for granted.
2936. What people in our Community Group are teaching me.
2937. The prayers of friends.
2938. God's help to love according to 1 Corinthians 13.
2939. Talking with the tow truck driver.
2940. Talking with Cynthia while I drove them home.
2941. Free lead sheets from WorshipTogether.com.
2942. Giving cookies to the tow truck driver.
2943. Fair trade coffee and chocolate.
2944. Chocolove.
2945. Champurado on Wednesday morning.
2946. New books coming.
2947. Safe drivers.
2948. The Money Museum.
2949. Attma's phone call and the guys' visit with him.
2950. MorningStar veggie burgers.
2951. Honey on sale.
2952. What Vonnie said last Sunday: "To be great is to do what God called us to do."
2953. Chapters 5 and 6 of the neighborhood Bible study book.
2954. God giving me 1 Corinthians 15:58 on exactly the right day.
2955. The mountain biker who said, "Good job!" when I was running uphill.
2956. We're only five hours from Montrose.
2957. Crushed red peppers.
2958. Thai chili-garlic sauce.
2959. I didn't overeat last week.
2960. Friends' anti-gluttony prayers.
2961. Half-off prices.
2962. The REI running shirt from Judy.
2963. Working lights in the house.
2964. The little wooden table we used for kindergarten, which we now use as a coffee table.
2965. Cross-stitching the word "Love."
2966. Plans to file all those school papers.
2967. Hopes that I will execute my plans.
2968. Frequent toilet cleaning.
2969. Waking with a different song in my head each morning.
2970. The repeat button on the CD player.
2971. Books in Spanish on CD.
2972. Reminder emails that the library book is overdue.
2973. Buffer time.
2974. People keep giving us their "old" computers (which are so new by our standards!).
2975. Being married to an inventor.
2976. Erik's story about videotaping the speed skateboarders.
2977. No injuries or accidents at the ski trip.
2978. Skiing for the first time with both Titus and Derek.
2979. Monarch ski resort.
2980. Monarch Park cross-country ski trails.
2981. Not as many snowmobiles at Monarch Park this time.
2982. The five-dollar ski boots I got at Salvation Army across the street from our Sunnyvale apartment.
2983. Byron starts Landsharks today.
2984. Titus's eleventh birthday.
2985. Looking forward to learning "Alhambra."
2986. Steve's guys' game night and the games he introduced to us.
2987. Charles's entrepreneurial nature.
2988. Decided on First John for the summer Bible study.
2989. A good break, and learning that it didn't need to be that long.
2990. Doing Hebrew lessons with Derek.
2991. The scheduling flexibility at Coronado.
2992. Archer Farms decaf fair trade coffee.
2993. Amicas restaurant in Salida.
2994. Daveto's restaurant in Delta.
2995. Shirley Sampson can always tell when I'm upset, no matter how much I try to fake it.
2996. Driven to utter, desperate dependence on God.
2997. Life lessons on trust.
2998. Sitting behind the Sessions family in church yesterday.
2999. Zephaniah 3:17, especially the word "calm" or "quiet."
3000. I hit 3000 in my gratitude list!
3001. Charles's idea to do birthday candles in binary (lit candles=1, unlit candles=0).
3002. Using 29 ounces of chocolate in Titus's cake.
3003. Visit from Rev. Joseph.
3004. Derek's Suzuki Book 5 recital coming up.
3005. REI 20%-off coupons.
3006. Cheap rental in Salida.
3007. Seeing David and Jill in Sunday school.
3008. Hosea. And Gomer. And Hosea and Gomer.
3009. Several years living in the same town as the Sharmas before they moved.
3010. Fresh Italian parsley.
3011. Darlene's foccacia recipe.
3012. Whole-grain corn meal at King Soopers.
3013. Getting to make dessert for Easter.
3014. Steve and Beth Ann's invitation to Easter lunch.
3015. Charles waters the lawns.
3016. First robins of the year in our backyard. They're getting the worms after Saturday's lawn watering.
3017. Charles didn't have to be on hold for 39 minutes the second try.
3018. Pleasant woman on the other end of the line.
3019. Derek didn't get a flat tire yesterday.
3020. Making Indian food again.
3021. Charles wants to eat spicier foods.
3022. Crushed red peppers on my spaghetti.
3023. Derek writes The Sharman Times.
3024. The journalism text recommended by Jennifer Lee.
3025. Jennifer Lee.
3026. Standardized 5th grade testing.
3027. Mechanical pencils.
3028. Hobbytown USA on Woodmen and Academy.
3029. Getting Cameron's 1st birthday gift.
3030. Lots of pregnant ladies in our church family.
3031. Jenna's homemade cream cheese.
3032. Dark toast.
3033. Our water heater works.
3034. Our roof quit leaking after Charles fixed the roof vent.
3035. We've never been bitten by a rattlesnake.
3036. Coffee in the mornings. And all day long.
3037. Springtime buds on trees.
3038. Shadows on snow.
3039. Fears and insecurities that drive me back to God and His Word.
3040. God and His Word.
3041. Memorizing Matthew 5.
3042. Choosing another passage to memorize with Titus.
3043. Our printer.
3044. People keep giving us their "old" computers.
3045. "Outdated" to someone else means "really great" to us!
3046. Dinner at the Burmeisters' new home.
3047. Kathy's chocolate globs on her pecan cookies.
3048. Bill's Italian sodas.
3049. Artwork on their walls.
3050. Finally taking down the lone remaining Christmas decoration (the banner).
3051. Mail in the mailbox.
3052. Packages on the front porch.
3053. Byron's new Shuttle Launcher Lego set.
3054. Family chores on Saturday mornings.
3055. Listening to KTLF (loud!) while cleaning the bathrooms.
3056. Saturday walks with Charles.
3057. Meeting Rob and his parents.
3058. Seeing Valerie and Greg during the walk.
3059. In the forties today, after being in the seventies yesterday.
3060. Hot shower after a long day of skiing.
3061. Hot showers … any day.
3062. Having lived in Israel.
3063. Making hummus.
3064. Mom got me SmartWool socks when Jeans Westerner had its going-out-of-business sale.
3065. Knowing so many amazing photographers.
3066. Daily poems from Poets.org and Every Day Poems.
3067. Cynthia and Jon filled our freezer with fish and more.
3068. Finished the cross-stitch birthday gift on time (early, even!).
3069. Cheaper prices at Sunflower Market.
3070. More crushed red pepper and cayenne around here.
3071. I know how to give them haircuts.
3072. Simply Darlene's photography.
3073. NPR's interview series on picture books.
3074. Playing the CD of Suzuki Books 1 and 2.
3075. Being Byron's piano teacher.
3076. Garlic. And garlic, and garlic.
3077. Planning to get "Alhambra" for Dana's birthday.
3078. Getting "Alhambra" for Titus's birthday.
3079. Landsharks Run Club.
3080. Running while Byron is in Landsharks practice.
3081. Memorizing with Derek and Titus.
3082. Oatmeal with ground flax and dried berries.
3083. The new espresso brownie recipe.
3084. Sweet chili garlic Thai sauce.
3085. Butter lettuce.
3086. The joy of writing.
3087. This summer's Bible study in First John.
3088. Writing poetry.
3089. New leaves on the oak bush.
3090. Regular deer visitors in our front and back lawns.
3091. The mountain lion killed deer, not people in our neighborhood.
3092. Jennifer's deer story.
3093. Linda's offer to write the arrangement.
3094. Warm April days.
3095. Finishing a writing project.
3096. God's help.
3097. Bean soup.
3098. My pink and purple pens.
3099. T.S. Poetry Press.
3100. Laura Boggess and her encouragement.
3101. Nancy's art and photography and poems.
3102. Humility.
3103. It's warm at night.
3104. Milgard windows.
3105. Reading a Scott O'Dell book for the first time.
3106. Reading a Katherine Paterson book for the nth time.
3107. Carol's prayer list idea.
3108. At Panera with Jean yesterday.
3109. Byron's bike with gears.
3110. Derek's Bible study with two others.
3111. Memorizing in Deuteronomy and Matthew.
3112. Saturday walks with Charles.
3113. 3rd quarter breakfast at Adam's Mountain Cafe.
3114. The big bicycle and unicycle sculptures in front of Adam's.
3115. Boonzaaier's Dutch Bakery (and the fact that I can spell it).
3116. Talking with Stacey and Beth Ann.
3117. My pink pen ran out exactly on the last page of that journal.
3118. Good running shoes.
3119. Charles's monthly guys' game night.
3120. Going to the recycle place.
3121. The guy selling chicken mole tamales on Centennial.
3122. Sons who like California rolls.
3123. May is upon us.
3124. The moths really could be worse.
3125. Dorothy and Arnie scheduled to come for dinner soon.
3126. Rereading Cry, the Beloved Country.
3127. Rereading A Wrinkle in Time.
3128. The realization that my body hurts because I need new running shoes.
3129. I've been running nearly daily for two and a half years.
3130. Excellent field trip hosted by Nick and Sonja.
3131. Seeing Amy (and Michael-in-womb) and Cafall during my run.
3132. Chicken sausage on sale at Sunflower.
3133. New dentist and dental hygienist.
3134. Having Dr. Kelli for as long as we did.
3135. Their Science Olympiad teams got 2nd in State!
3136. Kathy's skunk didn't spray.
3137. Susan around the corner.
3138. SmartWool socks.
3139. Working legs.
3140. Good contact lenses.
3141. I found a cheaper rental car price.
3142. Bananas.
3143. Whoever gave me that bottle of daily multivitamins.
3144. Crushed red peppers on eggplant pasta.
3145. Crystallized honey.
3146. Byron is good company during errands.
3147. Landsharks races.
3148. Bumping into Pat and Kerri at the race.
3149. Charles's great ideas.
3150. The amazing view from 30th Street, of Pikes Peak and Garden of the Gods.
3151. Good drinking water from the tap.
3152. Book-at-a-Time Bible reading plan.
3153. My Bible cover.
3154. Finding a good birthday gift for Charles's dad.
3155. Birthday giftwrap: brown paper with all those stickers.
3156. Making cards from photos I took.
3157. The journal I got for free (besides shipping).
3158. Playing whist and darts with my family.
3159. Sons who can do so much.
3160. Charles trying a little longer on that apple tree.
3161. Titus's art school.
3162. Good ol' pen-and-paper planners.
3163. Vanilla-flavored agave.
3164. King Soopers renovated and now has a sushi bar!
3165. Running while Byron is at Landsharks practice.
3166. Coach Pam.
3167. Coach Gina.
3168. I was able to volunteer at the Landsharks races.
3169. Emily Wierenga's art.
3170. Praying for Jennifer.
3171. Titus reading The Exploration of the Universe (college text) for fun.
3172. Egermeier Storybook Bible.
3173. Darlene's words and photos.
3174. Nancy's words and art and photos.
3175. Her daughter's name is CJ.
3176. Planning to get Dana's birthday gift already.
3177. Titus made Grandpa a birthday card.
3178. Byron's repeated attempts to improve his board game ("Around Australia and Africa").
3179. The colors Byron used for his new board game.
3180. The case he made for it, too (with red duct tape).
3181. Scheduled to provide youth group dinner on the 20th.
3182. Mother's Day coming up.

3183. Marcia who made that fabulous dinner for our baby meal.
3184. Lots of roasted garlic.
3185. Each person is different (so different!).
3186. A planned California trip soon.
3187. My hair is growing longer.
3188. I can almost use the butterfly clip again.
3189. Aubrey, who taught me that housecleaning should happen once a week (duh)!
3190. Vinegar and water for house cleaner.
3192. Old socks for rags.
3193. There was a UPS Store near the art school.
3194. The fun of ITBS days.
3195. Great lighting because of our bedroom window.
3196. Window seats.
3197. Jean and Roger's windows.
3198. Sesame oil. Toasted.
3199. All that fish and food from Cynthia.
3200. At least I gave her some pumpkin soup I made with her pumpkin.